Waterproofing Insulation and Drainage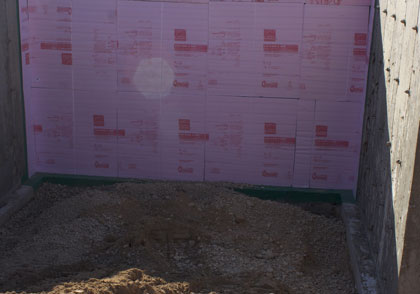 Rub-R-Wall is a 100% rubber polymer, liquid applied waterproof membrane. Our spray- rig heats liquid rubber to proper temperature for seamless application.
Technicians perform surface preparation to foundation walls, removing all loose and sharp edges, form debris, etc. Walls and footings need to be in a clean dry condition. Snap-ties and imperfections need to by parged with non-shrink grout (24) hours prior to application.
Snap-ties, joints, and cracks are filled properly with Rub-R-Wall Mastic troweled to fill and create desired thickness prior to spray application.
Rub-R-Wall is applied in a three-coat application process.
Coating is applied thinly and can be seen through slightly. Off gassing and adhesion are taking place.
Second coat establishes complete coverage of concrete filling high and low points such as form lines and rock-pockets.
Third coat completely forms a seamless flexible barrier with 1,800% elongation and one of the lowest perm rates in the industry. Rub-R-Wall is now tacky and ready for insulation or drainage board application.